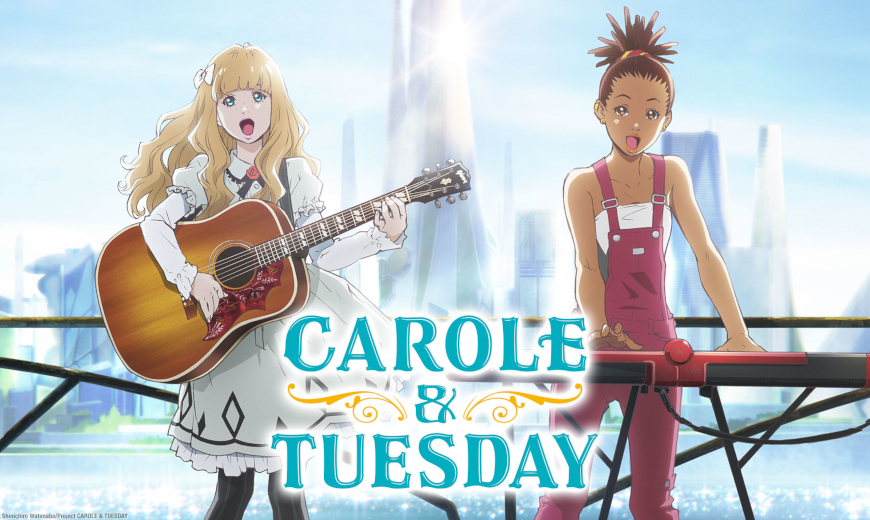 Shinichiro Watanabe's Celebrated Original Music Anime "Carole & Tuesday" Headed to Home Video From Sentai
---
HOUSTON, TX — September 22, 2022 — Sentai revealed today that it has acquired the home entertainment rights to the critically-acclaimed music anime "Carole & Tuesday" from original creator and chief director Shinichiro Watanabe, who is wildly admired for such commercially successful titles as Cowboy Bebop, Samurai Champloo and Space Dandy. Animated by production studio Bones (Fullmetal Alchemist: Brotherhood, Mob Psycho100, Space Dandy, My Hero Academia) and directed by Motonobu Hori (animation director for Psycho-Pass) with soundtrack by record label FlyingDog, Carole & Tuesday will be released on home video by Sentai later this fall.
In the not too distant future, AI-generated music dominates entertainment on Mars, where the cutthroat music industry churns out dozens of plastic stars manufactured for mass appeal. It is here that Carole Stanley, an aspiring singer and orphaned teenage refugee from Earth, struggles to makes ends meet with odd jobs all the while dreaming to become a musician. That dream suddenly comes closer to reality when she meets fellow teen Tuesday Simmons, who is also a wannabe musician. Tuesday has her own set of problems, but their troubles fade away when they band together to write music the old-fashioned way in defiance of AI-generated convention. With the winning combination of Carole's keyboard, Tuesday's guitar and their vocal harmony, this powerhouse duo take on the Martian music world together—but life in the big city isn't always kind to naïve young hopefuls like Carole and Tuesday.
The series stars Japanese voice actor Miyuri Shimabukuro (Granbelm, Vermeil in Gold, The Case Study of Vanitas) and English voice actor Jeannie Tirado (The Promised Neverland, Ascendance of a Bookworm, JoJo's Bizarre Adventure: Golden Wind) as Carole Stanley with musical vocals by Nai BR.XX. Japanese voice actor Kana Ichinose (Darling in the FranXX, Dr. Stone, Gleipnir) and English voice actor Brianna Knickerbocker (Demon Slayer: Kimetsu no Yaiba, Vinland Saga) star as Tuesday Simmon with musical vocals by Celeina Ann.
Carole & Tuesday received numerous accolades during its original release including the award for "Best Score" along with nominations for "Anime of the Year" and six other categories at the 4th Annual Crunchyroll Anime Awards. The Verge called it "…wholesome, hilarious, heavy and heartwarming." Thrillist described it as a "…gorgeously animated, delicate show…" Kotaku dubbed it "…A Must-Watch Anime…" IGN named it "…one of the most thematically ambitious works in anime in the past decade…" and Birth.Movies.Death. praised it as "…a powerful reminder of how music can act as a means to connect and understand, not just entertainment…"
For Sentai's latest announcements regarding this and other great titles, be sure to like us on Facebook as well as follow us on both Twitter and Instagram.
About Sentai
Sentai is a leading global supplier of anime content and official merchandise dedicated to bringing captivating stories and iconic characters directly from Japan. Sentai's brands include HIDIVE (direct-to-consumer streaming), SentaiFilmworks.com (direct to consumer E-Commerce), Anime Network (Cable SVOD) and Sentai Studios (localization and studio services). Sentai's diverse library includes thousands of hours of hit titles and classic series including MADE IN ABYSS, Ya Boy Kongming!, Akame ga Kill!, Food Wars!, CLANNAD, The Executioner and Her Way of Life, Is it Wrong to Try to Pick Up Girls in a Dungeon?, High School of the Dead, Girls & Panzer, No Game No Life, K-On!, I'm Quitting Heroing and Parasyte -the maxim-.
###